Rihanna is Back
Rihanna shows off skills at Super Bowl LVII halftime show
For Super Bowl LVII, Rihanna came out of the shadows and performed for the first time in the last couple of years. She is a fantastic artist and has hits after hits, but how did she manage to fit 12 songs in under 20 minutes?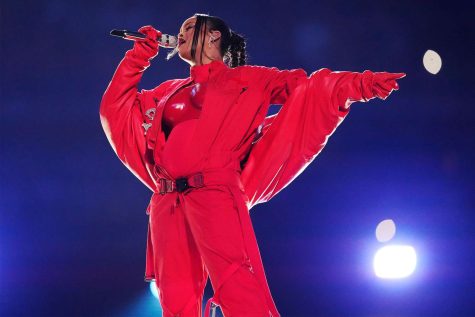 "You only have 13 minutes. That's a challenge. You're trying to cram 17 years of work into 13 minutes, so it's difficult," Rihanna said to CBS News during an interview.
Fans had been waiting to see her performance ever since it was announced because Rihanna hasn't released in music besides the single "Lift Me Up," featured in "Black Panther: Wakanda Forever." I was skeptical if she would be able to pull it off, and she did much more then that. 
It was an iconic performance that will go down as one of the best halftime shows. Rihanna stood on a platform almost 60 feet in the air, and was still able to sing without showing an fear. Unlike many other artists, she defied gravity and showed off her vocals.
She truly is a superstar.