Humans of BK: Avery Katherine Wood
Junior Avery Katherine Wood describes the ups and downs of being a social influencer
It all started with a Tik Tok video Avery Katherine posted freshman year. After that, her life has changed forever.
"The video got 4.8 million likes and 20 million views. And ever since then, my social media career has taken off," Wood said. 
Just like most teens her age, AK is enrolled in several AP and honors classes and participates in many extracurricular activities. What makes her different, though, is that since she went viral on Tik Tok, she became a sort of micro-celebrity, or influencer, to over 800 thousand of her followers and continues to create content today. In fact, her videos, mostly based on lifestyle, beauty and fashion, became monetized and her main source of income now comes from the collaborations she does with other brands to promote products on her platform.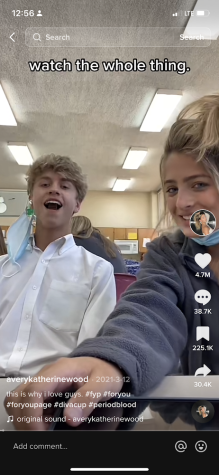 Managing this all, however, can be challenging for her. Wood believes that her presence on social media has had a significant impact on her friendships and family relationships, as well as her own mental health. 
"Many people may treat you like you don't have any feelings because they don't really see the other side of you. The thing about social media that's hard is that you only see the good things and not the bad things," Wood said.
However, all the hardships of her new life are made possible through her loving followers, which she refers to as a "little family" in her Tik Tok bio. AK claims that the most rewarding aspect of being an influencer is being able to provide help and comfort for a lot of people. 
"I make my platform a very comfortable space and that allows people to come to me and watch my videos whenever they're feeling sad or down. One of the best things is receiving DMs from people on Instagram which reflect how much my videos mean to them," Wood said.
But above all, Avery Katherine always keeps in mind her faith. In the social media world, it is especially difficult to express one's religion, and oftentimes people may avoid influencers simply based on their religious beliefs and practices. However, AK knows it's important to stand up for what she believes in and not give up her faith for fame.
"In social media, a lot of people are going to shy away from you based on your beliefs. But I am very true to my word and I am very blunt and I don't put on a mask," Wood said.