Look to Hoco
Homecoming approaches with spirit week, dance, game Friday
As BK approaches its Homecoming game, students are given the opportunity to participate in Spirit Week events before the big game.
Here is a breakdown of what to look for starting on Sep. 12.
Monday is Sports Day – students can represent a sports team that they want to publicize.
Tuesday will be Character Day where students will be allowed to dress up as their favorite cartoon, movie or book character.
On Wednesday, students have a generational theme where they will be dressing as their dads. Ideas for this day include tacky shirts, suspenders and fanny packs. Wednesday will also be the only day this week that students will be allowed to wear out-of-uniform shoes.
Thursday is a staple in Homecoming week – students will be "Coloring their Class." Freshmen are yellow, sophomores are orange, juniors are blue and seniors are pink. All this day entails is color popping a student's outfit.
Finally, Friday is Spirit Day where a previously purchased Homecoming shirt can be worn in place of the uniform.
Friday is also game day against the Hollis Christian Eagles. The game starts at 7:00, and Homecoming Queen will be announced at halftime. Following the game will be the dance from 9-11. At around 10:45, the Homecoming King will be announced.
For more information, dance guidelines, ticket information and Spirit Week regulations can be found in the BK Class Cohort.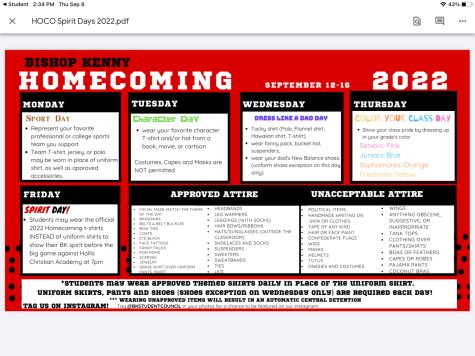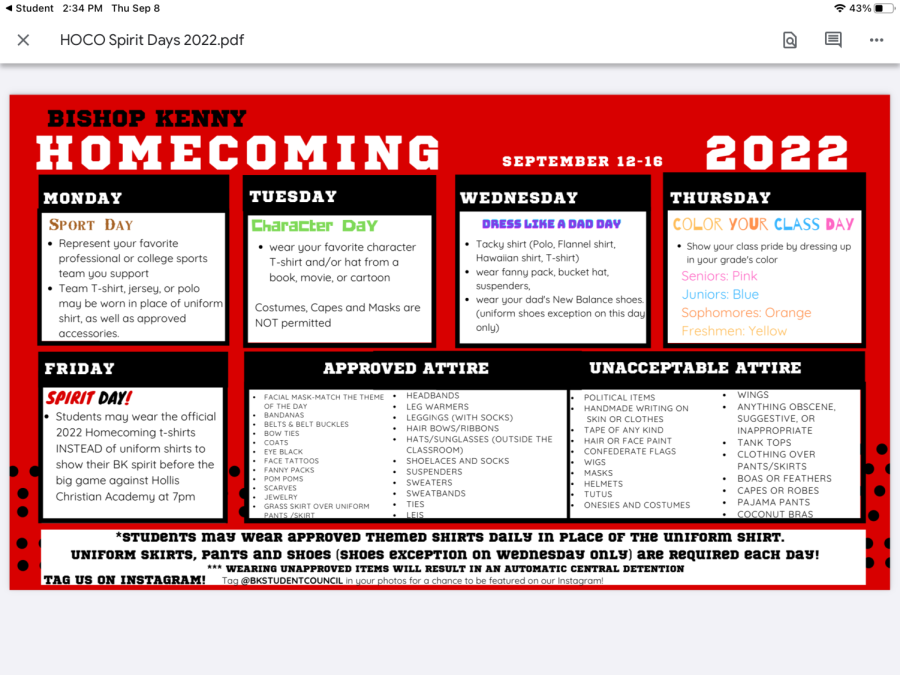 Spirit week information is posted on the Class Cohorts. In addition, The Shield will be covering students' outfits all week, so keep an eye out for the creativity the student body will show.