Subway Surfers Turning 10 Years Old
Mobile game reaches decade since release
Subway Surfers is an endless runner game where the players move their choice of graffiti artist characters over, around and through obstacles while avoiding being caught by the "Inspector" and his dog. It is playable on iOS, Android, Microsoft Windows, MacOS and Fire OS. It was originally developed by both Kiloo Games and SYBO Games but is now fully owned by SYBO.
Players can use hoverboards and power-ups to their advantage to collect as many coins and run for as long as possible to reach high scores and rankings. Hoverboards allow the player a get-out-of-jail free card where, in the event of a crash, their character disappears in a puff of colorful spray paint to escape the Inspector and continues the run. Power-ups include score multipliers, coin collecting items, and skill enhancements for the characters. The player can also receive mystery boxes containing boards, coins and tokens to unlock certain characters.
Subway Surfers was initially released on May 24, 2012, making it ten years old this May. The game received seasonal updates in its early years and gradually added location themes to go with every update. Currently, every three to four weeks, the app has a full redesign of setting, music and characters, with limited edition hoverboards. It currently has a 10 year anniversary theme and is set in Monaco.
The game rose to popularity in the mid-2010s, becoming the most downloaded game from 2012 to 2019, according to an article by Business Insider. It reached 3 billion downloads in early 2022.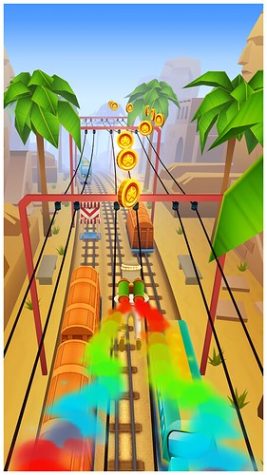 Monthly and weekly events and daily challenges spice up the repetitive gameplay. Completion of these tasks results in coin, token and score rewards, as well as rankings. There are daily word challenges for the player to collect the letters of the word of the day in the subway.               
Whether you're a new player or old, Subway Surfers has and, for the foreseeable future, will provide constant and fun updates to spice up its gameplay.