Exciting Easter Traditions
Looking at different traditions associated with Easter
Easter is coming up on Apr. 17 and with it comes many popular holiday traditions. Easter has been observed since the resurrection of Jesus, and has evolved into a fun holiday for children. While the true meaning of Easter is celebrating Jesus' resurrection, it doesn't mean that we can't have a little fun as well. Let's see how many of these your family participates in and what new traditions you can add this year.
1. Easter Sunday Sunrise Service— Many churches hold this mass because Mary opened Jesus's tomb in the early morning, where she found it empty. This tradition goes back to 1732 in Germany, and by 1773 in North Carolina, the first sunrise service for Easter took place.
2. Stations of the Cross— The Stations of the Cross are used to help Catholics make a spiritual pilgrimage through Christ's life and to see all that He has done for us. This is done all throughout Lent, mainly on Fridays, and commemorates Christ's Crucifixion on Good Friday. They help us look forward to a life in Heaven where we can forever be with God.
3. Easter Eggs— Easter eggs have become a main symbol of Easter and encompass many activities. Things such as dying eggs, Easter egg hunts, and games like the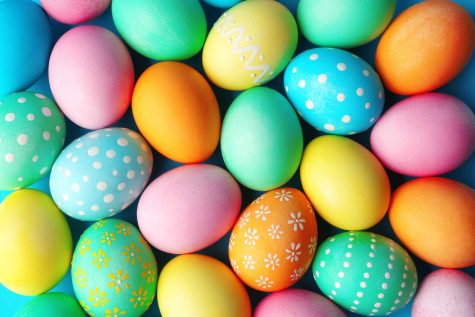 Easter egg roll all contribute to the Easter season. It is said that in Christianity, eggs were a forbidden food during Lent, and therefore, people would decorate and play with them to mark the end of the fasting period. They have since become a symbol of new life and rebirth.
4. Easter Baskets— This tradition also began in Germany. Children would go out and create small nests in their garden to allow the bunny to place the baskets in the small crevices. The baskets, filled with small goodies and candy, are left by the Easter bunny on Easter morning.
5. Easter Feasts— Because of Lent, the Easter feast was born. Easter ends the forty days of Lent, and you can eat anything that you gave up, including meat. Therefore, people use Easter as a celebratory feast of the Resurrection, and delve into the sweet and savory dishes that they missed during Lent.
These traditions are what makes Easter special. No matter what your family does for this holiday, it is important to remember the true meaning of Easter: that God rose from the dead. Try some of these traditions out for yourself if you haven't yet… go to the stations of the cross at your church, plan what time you will go to church on Easter Sunday, and dye some Easter eggs. Have fun celebrating this joyful day!