Humans of BK: Michael Saunders
Sophomore Michael Saunders discusses life as a student-athlete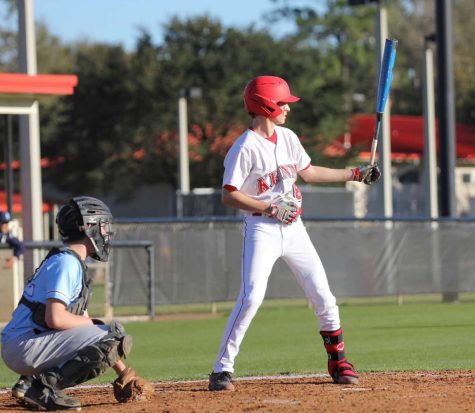 From a very young age, baseball has always been a major part of Sophomore Michael Saunders' life. On top of being a full-time student, Saunders spends tons of time out on the baseball fields, being a part of both the varsity and junior varsity teams at BK.
Saunders grew a love for the sport at the age of five when he started playing tee ball.
"I have been playing baseball ever since I started tee ball at five years old," Saunders said.
Prior to playing at BK, Saunders played softball at San Jose Catholic School and also played club baseball to further develop new skills.
Saunders can play mostly anywhere, but most of his playing time is spent at shortstop.
Although the sport takes up a lot of Saunders' time, when he is playing the game, all the hard work is worth it.
"Nothing else matters when I play. It is a chance for me to relax and have fun with my teammates," Saunders said.
Saunders uses baseball as a way to cool off from the hard work of everyday life and relieve stress.
"I feel calm when I am playing baseball because, after all, it is all fun and the time when I have the least amount of stress," Saunders said.
Although it has been Saunders' lifelong dream to play Division 1 baseball at the University of Florida, he would be happy to play anywhere he could.
"It has always been my dream to play professional baseball. The next step for me would be to play in college. Although I would go anywhere I could, it has always been my dream to go to the University of Florida for baseball," Saunders said.