Humans of BK: Luis Alejandro-Blanco
Junior Luis Alejandro-Blanco petals about his life as a student, a friend, and a wrestler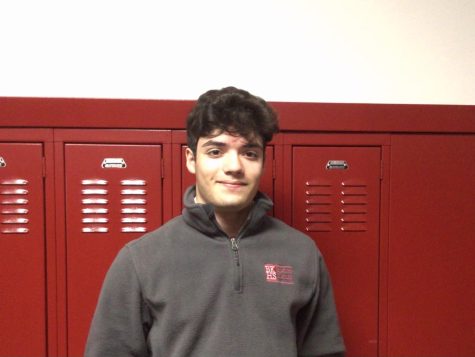 Junior Luis Alejandro-Blanco manages a busy life filled with education, volunteering, wrestling, and friendship.
Alejandro-Blanco is currently taking both honors and standard classes. His honors classes are Spanish 3 Honors and Anatomy/Physiology Honors. He has other classes like Debate and Psychology/Sociology. His favorite class is Psychology/Sociology with Coach Matthew Case. He likes his teachers, such as Dr. Paul DiGeorgio "who is a great teacher" and Mrs. Cecilia Reese "who is amazing" according to Alejandro-Blanco.
Alejandro-Blanco and his also volunteers for a foundation, run by his family, that is built to help out the poor downtown outside of school.
Alejandro-Blanco does wrestling and track as well. He has since changed his mind on track and continues to wrestle. He participates in the medical career club and Spanish Honor Society.
Alejandro-Blanco has won second place in a JV regional for wrestling.
Outside of school, Alejandro-Blanco participates in club soccer. He enjoys playing soccer when he can in his free time. He also enjoys seeing his cousins when he can and spending his time with his friends. They will commonly go to the park to hang out and sometimes go to Buffalo Wild Wings. Buffalo Wild Wings, or "Bdubs" as he likes to call it is a common wing and sports bar that people go to to watch sports with friends and hang out.
With his friends he will commonly "just mess around" Alejandro-Blanco states. They will go to a park or go to restaurants to eat and hang out.
Alejandro-Blanco's friends would commonly describe as hardworking, confident, courages, hopeful, unique and athletic. They joke about how he is commonly "sleepy or tired" and an "actor" of sorts.
"He is adaptive, adventurous, ambitious and compassionate." One of Alejandro-Blanco's friends and classmates, Ja'mal Johnson, says that this is how he best describes him.