Three Cheers for 'Cheer'
Netflix releases second season of hit documentary series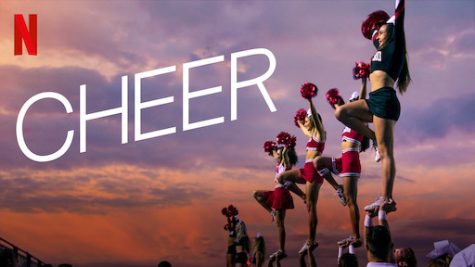 The Emmy award winning docu-series 'Cheer' has just released its second season, and it is a large shift from the first.
The beginning season of the show focused primarily on the Navarro College cheerleading team and their year of preparation leading up to 2019 Collegiate National Cheerleading Association (NCA) Nationals in Daytona. Head Coach Monica Aldama led her team through the year, with hopes of a 14th national title for both her and the school. Through the show, there was emphasis on the emotional journeys of the athletes it focused on. The season culminated in the success of Navarro at nationals, beating their main competitor, Trinity Valley Community College.
The new season, which first aired Jan. 12, 2022 follows the Navarro team and fame following the first season, and their journey preparing for the 2020 Nationals, which did not happen because of Covid. Once it was announced that the 2020 Nationals would be canceled, production stopped until the 2020-2021 cheerleading season. Many of the show's stars graduated or left that year, and Navarro faced a lot of drama surrounding serious allegations against former Navarro athlete, Jerry Harris. 
Following this, focus of the show began to shift more drastically over to Trinity Valley and its athletes and coaches. Head Coach at Trinity Valley, Vontae Johnson, was a former cheerleader at the school. The rest of the show showed parallels between the two teams, and their preparation tactics. It continued to focus on particular athletes and their lives that brought them to cheer, with a lot of emotion. 
The season was nine one-hour episodes, up from six the previous season, and ended in a two-episode finale following the teams through 2021 Nationals. 
To end similarly to the first season, the second half of the last episode gave a look into the present, interviewing stars of the season two months after nationals.