Humans of BK: Cecilia Adkison
Sophomore Cecilia Adkison talks about having hobbies outside of school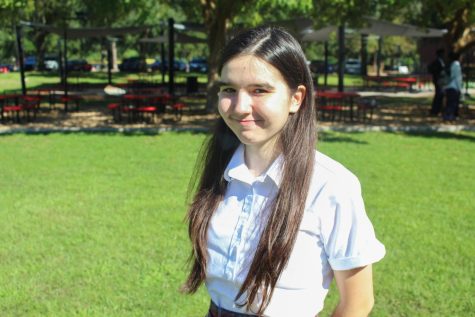 Sophomore Cecilia Adkison maintains a wide range of interests along with a packed schedule as an AP and honors student. 
Performance arts are a big part of Cecilia's life. She is a member of theater at BK, and in this past fall's production of The Addams Family, she was Wednesday Addams' understudy and a member of the ensemble.
"I've been doing [theater] since I was two," Cecilia said. She plans to do the school musical in the spring.
In addition to theater, she also does highland dance, a type of Scottish traditional dance. She has competed in highland dance in the past.
Along with dancing, Cecilia also participates in other athletics, both playing tennis and horseback riding. 
In her free time, she enjoys reading, spending time with friends and playing video games.
"I really like Genshin Impact right now," Cecilia said. Genshin Impact is an adventure game where the player gets to explore an open-world.
Cecilia is also an active member of the Latin club, a part of the student ambassador program and a member of St. Vincent de Paul.