Spicing It Up
Are you looking to spice up a classic fall beverage? Well, I have the recipe for you! Last year my mom found this mulled cider recipe; my family and I have fallen in love with it. It is easy and is perfect for those cold fall days that you just want to stay in and watch some Netflix, so enjoy!
Recipe courtesy of The Kitchn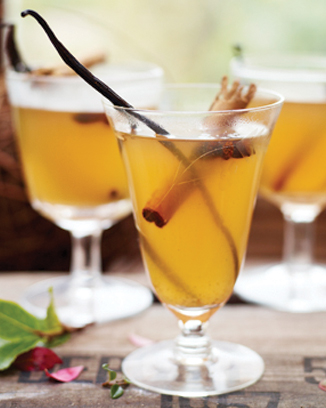 Ingredients:
1-gallon apple cider
1 medium orange
1 (1-1 1/2-inch) piece of ginger
5 (3-inch) cinnamon sticks
1 tablespoon whole cloves
Orange slices for serving (optional)
Instructions:
Fill the slow cooker. Pour the cider or juice into a 5-quart or larger slow cooker.
Add the fresh ingredients. Cut the orange into 1/4-inch-thick rounds. Cut the ginger into 1/4-inch-thick slices. Add both to the slow cooker.
Add the spices. Add the cinnamon sticks. Add the cloves and optional spices. To make it easier to serve, place the cloves and spices in a tea ball first, or place in a double layer of cheesecloth or paper coffee filter, gather it up into a sachet, and tie closed with kitchen twine.
Slow cook the cider for 4 hours. Cover the slow cooker and cook until the flavors meld, 4 hours on LOW. (If there are clumps of spices floating at the top that you wish to remove, strain the cider through a fine-mesh strainer or cheesecloth into a large pot.) Keep warm and serve in mugs garnished with additional orange slices if desired.
Extra notes:
Apple cider: Buy fresh apple cider or unfiltered apple juice for the best flavor. Do not use sparkling cider, spiced cider, hard cider, or clear apple juice.
Optional add-in spices: You can add any combination of the following spices to make a more complex-tasting cider: 4-star anise pods, 1/2 teaspoon whole black peppercorns, or 1/2 teaspoon whole allspice berries.
Storage: Leftover cider can be stored in the refrigerator for up to 3 days.
Stovetop directions: This recipe is designed for the slow cooker, but you can also simmer the cider covered over low heat on the stovetop for about 1 hour.