Fumbles Galore
Jaguars fall to 2-2 on season in Doug Pederson's return to Philadelphia
The Jacksonville Jaguars fell to the Philadelphia Eagles 29-21 in monsoon-like conditions at Lincoln Financial Field. The Jags now fall to 2-2 while the Eagles improve to 4-0 and remain the only undefeated NFL team so far in the 2022-2023 season.
Wide Receiver and Return-Man Jamal Agnew posted season highs with four receptions, 50 yards, and two touchdowns in place of the injury to the newly acquired wideout Zay Jones. Second-year safety Andre Cisco started the game off with a pick-six of Eagles' quarterback Jalen Hurts, his second interception of the young season.
"We're going to be in games like this," Doug Pederson, the Jaguars head coach, said  in his postgame press conference. Pederson, who was the Eagles' head coach from 2016-2020, returned to Philadelphia for the first time since he was fired from the organization. He walked out in the rain to a standing ovation from Eagles fans but that may have been the end of his smiles.
Jaguars quarterback Trevor Lawrence turned the ball over five total times; four fumbles and an interception plagued the Jags offense which scored just 14 points against the number one ranked defense in the NFL.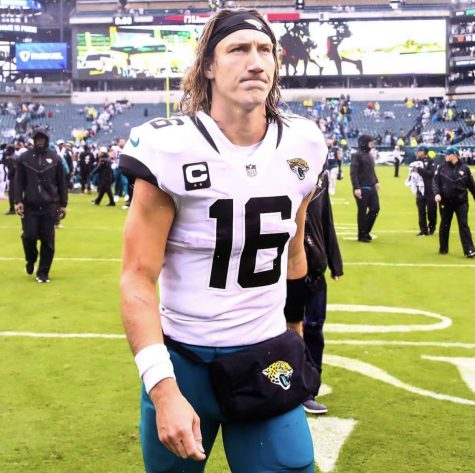 "We've got to have a short term memory…" Lawrence remarked. He was coming off of back to back games of multiple touchdowns and no turnovers. The first was a 24-0 shutout of the Indianapolis Colts at home (which drops the Colts record at Jacksonville to 0-8 with their last win coming in 2014) and the second a 38-10 romp of the Los Angeles Chargers in Los Angeles at SoFi Stadium.
The Jags look forward to welcoming the 0-3-1 Houston Texans to TIAA Bank Field this Sunday in pursuit of another victory.