Sign Away
Student athletes commit to college athletic programs
Five seniors signed to their prospective colleges to further their academic and athletic careers in the Carla Harris Performing Arts Center on May 11. Seniors Charlie Lawrence, Abby Measor, Martin Pineiros, Antonio Valentino and Luke Williams all signed to their future schools, surrounded with the support of family and friends.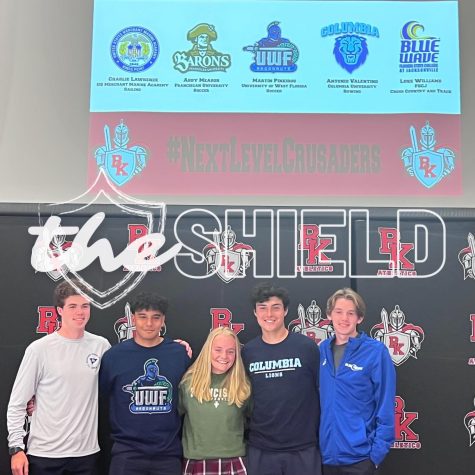 Lawrence is continuing his sailing career at the US Merchant Marine Academy. He was a four-year varsity letter holder for the sailing team and has received Honor Roll all four years. 
Both Measor and Pineiros are pursuing their soccer careers. Measor committed to Franciscan University, while Pineiros is going to attend University of West Florida. Measor has been on the varsity soccer team for four years and has also received Honor Roll throughout high school. Pineiros has been on the boys varsity soccer team for the three years of being at BK and had a total of 90 goals and assists throughout his high school career. 
Valentino is continuing his rowing career at Columbia University. He has been on a club rowing team for five years and helped pull his team to a 3rd place finish in the state at the 2022 FSRA Sculling Championships. He has also been on the Honor Roll every quarter of his high school career. 
Williams is pursuing his cross country and track career at Florida State College at Jacksonville. His personal bests include a 4:47.69 in the mile, a 10:28.63 in the two mile, and a 17:50.90 in the 5k, or 3.11 miles. 
Congratulations to all the student athletes and good luck at the next level!