What's All That?
'He's All That' premiers on Netflix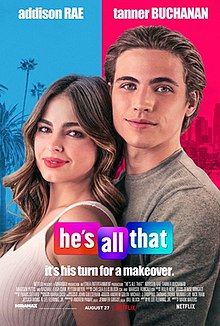 The long 'awaited sequel, 'He's All That', starring Addison Rae and Tanner Buchanan was finally released to Netflix on August 25.
Fans were not surprised to also see Rae's newly found friend, Kourtney Kardashian, featured in the movie. Kardashian is an American media personality widely known for her show with her sisters, Keeping Up With the Kardashians.
Rae is most commonly known for her significant TikTok following of 83.3 million. Buchanan has played the role of Leo Kirkman in the ABC show Designated Survivor, Robby Keene in the Netflix show Cobra Kai and Mason Kendall in the Nickelodeon show Game Shakers.
With many mixed emotions towards the movie, it reached number one on Netflix in no time.
Rae plays the part of a high school beauty influencer, Padgett Sawyer, who finds her boyfriend cheating on her while on set of his music video. To make matters worse, the whole thing was caught on an Instagram Live filmed by Sawyer's friend. To get her mind off the breakup, her friends bet her to transform one of their classmates, Cameron Kweller, into the next prom king. To no one's surprise, she ends up falling in love with him.
The director of this movie, Mark Waters, has also directed "Mean Girls" and "Freaky Friday."