On Thin Ice
What to know about the Willow Project
For decades, ConocoPhillips, Alaska's largest crude oil producer, has been pushing for a gargantuan oil drilling project in the National Petroleum Reserve on Alaska's North Slope. Known as the Willow Project, it will last over thirty years and extract 600 million barrels from the National Petroleum Reserve, which is owned by the federal government and located on Alaska's north slope. Its creators are now working closely with the Biden Administration and a decision is said to be made soon regarding the continuation and fulfillment of the venture.
However, in the past few weeks, the project has faced an upsurge of backlash, especially through social media. Over one million letters have been sent to the White House and a Change.org petition has reached over 2.9 million signatures in protest of the project.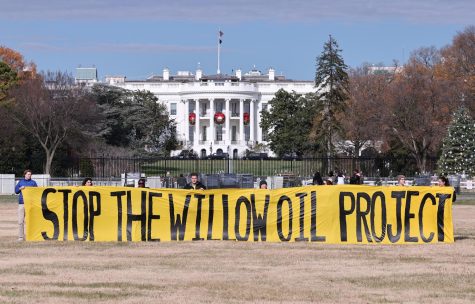 But this isn't the first time that America has participated in a large scale oil project, so why now are people upset? The major reason resides in the environmental impact that the Willow Project is predicted to have. As a side effect of extracting that extreme amount of oil over such a long span of time, 278 million metric tons of greenhouse gases will be released as a result. This is the equivalent of the emissions from 2 million cars, which would not typically be found in this region of Alaska.
That being said, the project may be detrimental to an already fragile ecosystem. With global warming on the rise, Alaska's environment is already weakened, including its species of plants and animals, as well as the  geography and landscape. Therefore, if the project continues, many endangered species could be subject to extinction with the temperature of their climate rapidly rising.
Another reason why people are protesting the Willow Project is because President Biden made a promise when he came into office that he would not pursue anymore new oil ventures during his presidency. He also made a vow to both protect and repair America's natural environments and critics of the project claim that he would be doing the exact opposite of that if he approved it.
However, one positive side effect of the project is the vast job market it will create. It is estimated that over 2,000 new jobs will become available for the Willow Project, which will help to decrease unemployment rates in Alaska. Additionally, this project also decreases the nation's dependence on foreign oil production, which we have already been experiencing problems with in the past year. Finally, Willow will help to lessen the cost of oil, which has also been on the rise recently.
All of these factors, both positive and negative, will be taken into consideration by the Biden Administration and a decision should be made within the next month.