Teachers at BK: Inge "Magistra" Thomas
Bishop Kenny's longest tenured current teacher tells of travels, languages, students
Inge Thomas, better known by her students as "Magistra," Latin for teacher, began teaching both French and Latin at Bishop Kenny in 1994 and hasn't looked back since.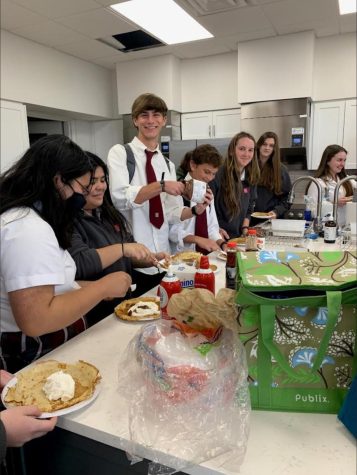 Magistra knows seven languages. Fluent in Dutch, her native language, and also French, English and Latin, she also knows some Spanish, Italian and German.
"I have always loved learning languages," Magistra said. "My parents even say when they would take me on vacation to France or Italy and I would see another child and I would ask them: How do I go up to them and ask 'What's your name? So, they would teach me little phrases from when I was three to four years old and I just loved it."
Magistra has also traveled all over the world. Born in Belgium, she has since traveled to the Netherlands, Switzerland, Germany, Austria, France, Spain, the former Yugoslavia, Peru, Mexico, Canada, Egypt and Jamaica. Even though she has been (almost) everywhere, she cites Italy as her favorite.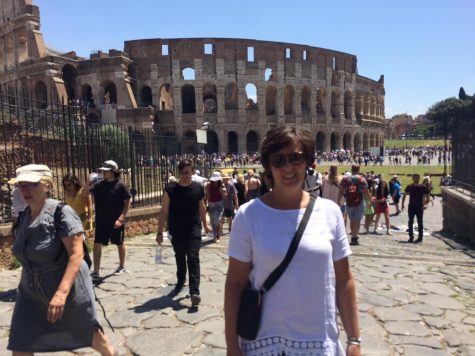 "I love the culture, I love the food, I love listening to the language, I love the climate," Magistra said.
She says that her favorite place in Italy is the Italian Lakes. "I love the Italian lakes," Magistra said.
Magistra's favorite memory of Italy is "spending time with family… just those weeks where both parents were involved with us and had time to relax with us."
As a world language teacher, Magistra has the unique opportunity to teach a class of students for all four years of high school. "I love seeing my students grow from shy, not always confident freshmen to blossoming seniors who become confident," she said. "I learn a lot about their personal lives. I get to see them grow up."
"Carpe Diem," Latin for, "seize the day," are the words that Magistra wants to leave her seniors with.