Behind the Front Door of 'Harry's House'
Harry Styles invites his fans to come home with his new album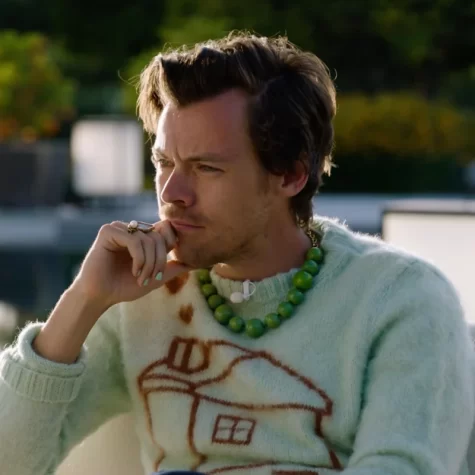 On May 20 Harry Styles released his third studio album, 'Harry's House.' The album contains 13 songs and is just under 42 minutes of synth-pop music. While each song is unique, the album as a whole has a jazzy tone created by a combination of trumpets, pianos, drums and guitars.
Prior to the release of 'Harry's House', Harry revealed insight of his hopes for the album in an interview with Zane Lowe. He admitted that his album title was chosen because of the feelings that his songs provoked.
"As I started making the album, I realized it wasn't about the geographical locations," Styles explains. "It was much more of an internal thing."
Styles wanted to create a place through his music where all of his fans would be themselves. Each of the emotions that are provoked throughout the album allow his listeners to feel what it would be like to enter into the home of Harry himself and be accepted.
"When I took that title, put it to the songs we were making, it felt like it took on this whole new meaning and it was about, imagine it's a day in my house," Styles expresses.
In a way, Styles was designing his metaphorical house with this album. He felt that it was important that his album was inviting for all of his guests (or listeners), but also was in line with his personal taste and was enjoyable for him.
"I'm making this because it's what I want to listen to," Styles reveals. "This is my favorite album at the moment, and I love it so much." 
Throughout his career, Styles has been working to please his fans and focusing on what they would want rather than what he would like to do. With this album, he made it a main priority to make something that he liked rather than make something that will get on the Billboard Charts.
"It sounds like the biggest, and the most fun, but it's by far the most intimate," referring to his newly released album. "Finally, it doesn't feel like my life is over if this album isn't a commercial success. I no longer feel like my overall happiness is dependent on whether a song goes here or goes here."
Ironically, Styles is known for his energetic stage presence, so it was shocking to hear that "for a really long time, [Harry] didn't really know who [he] was if [he] didn't do this."
Even though he did not have the approval of his fans weighing on his mind, Styles still received the approval of the masses when he released his single 'As It Was.' Thankfully, for the sake of his fans and himself, when 'As It Was' was released his discontent feelings seemed to disappear.
"I think there was something in doing the tour and people coming and dancing and having a good time made me feel like, 'OK, you just want me to make what I want to do.'"