Protesting For Their Rights
Students hold walkouts to fight against new bill
In protest to legislation, students throughout the state of Florida walked out of classes on Mar. 3. SB1834 and HB1557, both nicknamed the "Don't Say Gay" bill by LGBTQ+ advocates, were passed by the state House of Representatives and are headed for the state Senate next. The bill will implement a rule that schools are not allowed to talk about anything related to the LGBTQ+ community. If they do, parents can sue for infringement on the bill. Another thing it introduces is that if a student is found to be not straight, school administrators must out the student to their family within six weeks of the school finding out.
Students protested in many cities, such as Jacksonville, Tampa, Tallahassee, Orlando and others, shouting "We say gay!" and waving different pride flags, such as the gay, lesbian, bisexual and pansexual ones.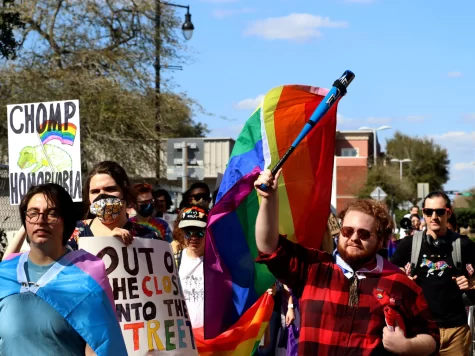 "The language and the supporters of the bill and the rhetoric around the bill really shows what the bill is, and it's an attempt to hurt queer people like me," senior Jack Petocz of Flagler Palm Coast High School said in an interview with NBC, "I believe this attempt to threaten me and remove me from campus is riddled with homophobia and bigotry." Petocz orchestrated the protests by posting about it on Twitter on Feb. 24, encouraging students to join him by walking out of class around Florida. After the protests, he was suspended by Flagler Palm Coast High School.
Senior Ashton Link from a Tallahassee high school agreed with Petocz's decision to hold the protest. In an interview with the Orlando Sentinel, he commented that the bill was discriminating against the LGBTQ+ community, "They are essentially trying to silence the LGBTQ community by saying, 'Oh OK. You're allowed to be gay, but just don't talk about it. Pretend that you are not gay.'"
Even with students walking out and large protests around the country, Florida Governor Ron DeSantis (R) still supports the bill. At an event in Miami, he commented about the bill, "Schools need to be teaching kids to read, to write. They need to teach them science, history," he said, "we need more civics and understanding of the U.S. Constitution, what makes our country unique, all those basic things." The Florida House of Representatives backed up his statement by passing the bill 69-47, with seven Republicans joining all Democrats in fighting against it. If the bill is passed, it will go into effect Jul. 1 and will be implemented in the 2022-2023 school year.
President Biden, however, has shown support for the LGBTQ+ community throughout his presidency. In a tweet posted on Feb. 8, he fought against the bill stating, "I have your back, and my Administration will continue to fight for the protections and safety you [the LGBTQ+ community] deserve."