Multiple Deaths During Parade
Deadly incident leaves five dead, 40 injured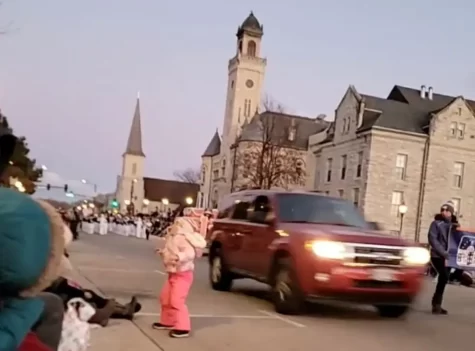 On Nov. 21 in Waukesha, Wisconsin, a red SUV driver plowed into the Waukesha Christmas Parade, which killed five people and injured 40 others. The driver of the SUV, identified as 39 year old Darrell E. Brooks Jr. was arrested and charged for five counts of first-degree intentional murder. Of the 40 injured, 18 of them were children. The victims ranged in age, from 52 to 81 years old. The investigation into the incident had been ruled to not have been a terrorist attack. It was also found to not be connected to the verdict of the Kyle Rittenhouse trial that was in Kenosha, Wisconsin.
Police officers chased down the suspect through the parade. At one point, an officer got out of his car and fired three shots at the SUV, which did not slow it down. The SUV plowed into a backyard, leaving tire tracks marks through the grass and side swiping a parked car in the process. Brooks parked his damaged car in a driveway and was caught by law enforcement.
"I'd liken it to a war zone," said Steve Howard, who is the chief of the Waukesha Fire Department, "Some of our first responders were there with their families — they left their families to treat people."
Tamara Durand was the youngest of the five victims, at age 52. Another victim, Jane Kulich was the same age. LeAnna Owens was 71, Virginia Sorenson was 79 and Wilhelm Hospel was 81. Three of the five victims were a part of a dance group known as the "Dancing Grannies," who would perform at parades in the city.
Brooks has been in prison multiple times. Earlier in Nov., he was released on $1,000 bail after hitting the mother of his child with the same SUV he used to cause the deadly parade incident. In that case, he was charged with domestic abuse. In 2020, he was arrested for firing a handgun during an argument he had. When searched, Brooks had a handgun and three pills, which were later found to be methamphetamines. He was released from prison with $500 bail after being charged with reckless endangerment and possession of a firearm by a felon.
"There were pompoms and shoes and spilled hot chocolate everywhere," said Corey Montiho, who is a Waukesha school district board member, "My wife and two daughters were almost hit. Please pray for everybody. Please pray."