Humans of BK: Rachel Howard
Sophomore Rachel Howard talks about her swimming career and her goals for the state meet
Swimming has always been a big part of Rachel Howard's life. She started swimming at four years old and joined a year-round competitive team at five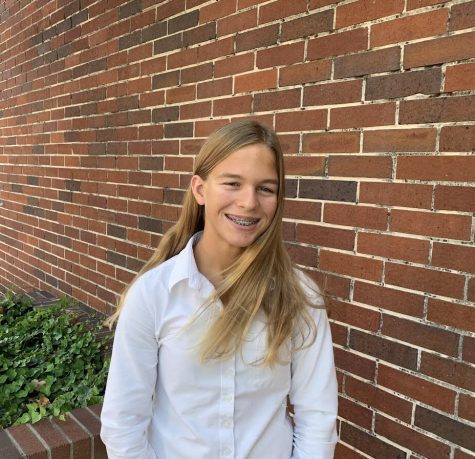 years old.
Howard qualified for four events at the FHSAA 2A Championships: 100 fly (6th seed), 200 IM (8th seed), 200 medley relay (4th seed) and 200 free relay (3rd seed).
Her goals for this state meet, which will be held on November 5, include getting personal bests and medaling in all of her events.
But this isn't the first time that she has made it to states. Last year, she also qualified in all her events. Additionally, she received Honorable Mention in the 2020 All First Coast Swimming Team.
Her success in the sport can be attributed to one of her first coaches, Coach Morgan. "She is the one who made me fall in love with the sport. Every best time and broken record that I have ever achieved started with her," Howard said. "I definitely could not have gotten where I am now without her in my life."
Additionally, her dad has always helped her to keep going and recognize her goals when she was down.
"There have been several times where I've gotten very close to quitting but he kept me on track and reminded me of my goals," Howard said.
Although swimming is something that she enjoys, it has also been a way for her to meet people that she will never forget.
"Even though it took me a while to realize, swimming has been the way I have been able to make lifelong friends," Howard said.
In addition to swimming, Howard is also involved in wrestling, Medical Career Club, Latin Club and Interact Club at BK.
Howard hopes to swim for a D1 program in college and she also plans to major in something related to biology or nutrition, potentially biomedical sciences.
Wherever her path takes her, swimming will always be a part of her life.
"No matter if I'm in the water or on land, swimming is always connecting to some part of my life as I can connect things I learn in swim to almost everything," Howard said.