The History of Florida vs Georgia
Taking a dive into the history of Florida vs Georgia weekend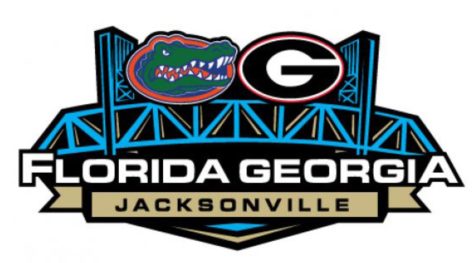 The Florida vs Georgia game has been a long tradition in Jacksonville. Starting in 1933, University of Florida and the University of Georgia have been going to Jacksonville to play each other.
The schools even disagreed when the rivalry started. Georgia says that the rivalry started in 1904 when Florida lost to Georgia 52-0. Florida says that it started in 1905 when the state legislature combined all of the University's locations into one University of Florida in Gainesville. Georgia currently claims the series with a lead of 53-44-2 while Florida has a score of 52-44-2.
The game became permanent in Jacksonville in 1933. Before this, the game had been held in cities like Tampa and Savannah. Jacksonville is the largest city between the two schools, with Georgia only being four hours away. The game has been a bonanza to Jacksonville since and has been making more money every year. Jacksonville is confirmed to remain the host city until 2023 and the schools have been invited for 2024 and 2025.
The game is also known as "The World's Largest Outdoor Cocktail Party" after The Florida Times-Union sports editor Bill Kastelz saw a drunken fan offer alcohol to a cop during one of the rivalry weekends in the 1950s. This name has stuck until the 1980s. In 1984 and 1985, fans stormed the field to tear down goal posts after the game, prompting the schools to disown the name. In 2006, the schools asked CBS and the City of Jacksonville to discontinue the use of the name as well. Other monikers have been proposed but none have stayed.
The rivalry has many great moments. Many fans say the best is "Run, Lindsay, Run." Georgia entered the game in 1980 undefeated and in No. 2, but with a minute to go and 21-20 on the clock, Georgia had to think fast. Facing third-and-long on his seven-yard line, Bulldogs quarterback Buck Belue dropped to pass and as legendary Georgia broadcaster Larry Munson said, "Florida in a stand-up five, they may or may not blitz. Buck back, third down on the eight. In trouble, he got a block behind him. Gotta throw on the run. Complete to the 25. To the 30, Lindsay Scott 35, 40, Lindsay Scott 45, 50, 45, 40 … Run Lindsay, 25, 20, 15, 10, 5, Lindsay Scott! Lindsay Scott! Lindsay Scott!" The Bulldogs went on to win the national title for the year.
The rivalry is one of the best and most popular it has ever been. Either Georgia or Florida have won the last six SEC East titles. So until the rest of the East ups their game, Jacksonville will be a stop on the road to winning.