Humans of BK: Mallory Frattle
Female wrestler faces all odds, a female in a "male dominant" sport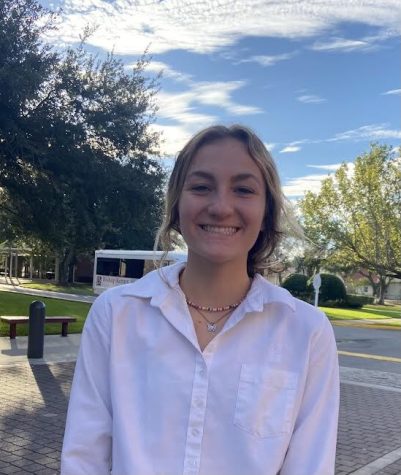 Junior Mallory Frattle looks into the sunny sky, trying to put what she has been working towards since freshman year of high school into words. 
"I didn't know anything about wrestling when I first came to high school, but I wanted to try a new sport," Frattle said when questioned about her start of her wrestling passion, "Many people tend to think that you can't be girly and wrestle, but I literally wear mascara to practice, so that's not even true." Ever since she started wrestling in what is stereotypically known as a male sport, Frattle has faced a couple challenges.
Frattle has dedicated numerous hours to becoming a better, stronger wrestler. "Wrestling is difficult, but I am proud of the times that I have wrestled girls, I have won." Frattle also said that one of her favorite aspects of being one of the only females in wrestling is that she loves meeting other girl wrestlers "My favorite part of wrestling is getting to meet other girl athletes because I think they're really cool since there aren't a lot of us. I also like working to become stronger and going to tournaments to see how I do against a variety of people."
She has been wrestling for about three years now and still thoroughly enjoys it, as she takes the sport seriously and continues to see improvements in her strength and abilities. Because there are very few girls who join the wrestling team, Frattle practices and wrestles with the boys team, since there are not enough female wrestlers to create an entirely new team.
Frattle overcomes the gender stereotypes alongside wrestling. She said that "a lot of guys think "oh I don't want to hurt you" when they wrestle me, but honestly they end up being like "ouch" or something."
 is often asked what sport she plays, and said that "People are always surprised when I say "wrestling," because they think of wrestling as a "male dominated" sport, but I don't think people should think of it like that."