AP Course Banned
Gov. Ron DeSantis bans AP African American Studies
College Board proposed an Advanced Placement (AP) African American studies course a few months ago. Since then, the Florida Education Department debated if the course should be implemented in the state's schools.
Last week, the state decided that the class would not be allowed.
Gov. Ron DeSantis cited that the course could be "indoctrinating" students.
In addition, the state government believes that the course includes critical race theory and Black queer studies – two ideas the state of FL has banned from its schools. 
College Board also noted that they received a letter claiming it was banned because it "lacked educational value and historical accuracy."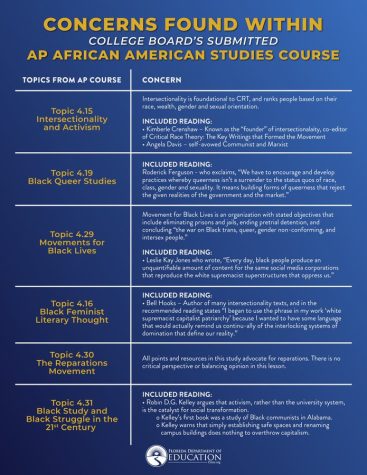 DeSantis has been criticized for this decision by others, such as those in the White House.
Despite this, the Florida Department of Education stands by this decision.
"Florida rejected an AP course filled with Critical Race Theory and other obvious violations of Florida law," Florida Commissioner of Education Manny Diaz, Jr. tweeted. "We proudly require the teaching of African American history. We do not accept woke indoctrination masquerading as education."
Civil rights attorney Ben Crump intends to file a lawsuit about the incident.