Effects of Irma
The consequences of Hurricane Irma a year later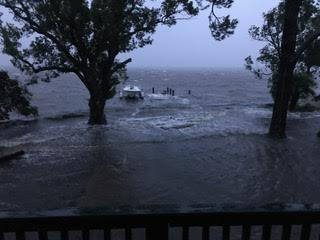 Since Hurricane Irma hit the coast of Florida over a year ago on September 10, 2017, those heavily impacted attempt to regain the normalcy they lost during the storm. While the hurricane is in the past for many Floridians, those who suffered damages take time to rebuild their lives after the storm.
   "It's surreal but it doesn't hit you until it happens to you. Everything is wet and in hours, everything is just destroyed. It's the whole process of picking up and starting over," Dr. Dawn Duss said.
    Duss's home in Avondale was flooded with a foot of water from the St. John's River. In the past year, she and her family stayed at an apartment while their newly-renovated home underwent repairs. These included; replacing windows, AC units, insulation, and drainage, on top of rebuilding the foundation of the house.
    "They had to take down the entire brick wall of the house, rebrick it and now we realized that there's another area in the second floor that they need to reseal," Duss said.
    They later discovered that the second floor was sagging, so a beam was needed to prevent it from caving in. These problems are partly derived from the age of the home, as materials such as velvet were once deemed suitable for resisting water in the early 1900s.
    However, the historical significance is what drove Duss and her family to move that August before Irma. They did not expect to encounter the extent of the Category 3 hurricane despite being on the riverfront.
    "The wind was going about 95 miles per hour and it was the scariest part because it was hitting up against the doors which were starting to buckle." Duss said. "We were afraid the doors were going to break."
    This experience with Irma has brought the approaching hurricane Florence into perspective for Duss.
    "Now that I'm seeing the hurricane coming back again, I feel like I have post-traumatic stress disorder," Duss said.
    She describes how her son is now afraid of what he calls 'name storms' and is apprehensive about the coming hurricane. Both her son and daughter expressed optimism during the storm and in the process of rebuilding. Her daughter reassured everyone that 'the sun will come out tomorrow' during Irma and both children refer to their home as the 'broken house'.
    Hurricane Irma left 6.2 million people without power and the damage totalled up to nearly $200 million according to CNBC. For some, Irma destroyed entire homes in its wake and those people, like Duss, are still in the process of recovery over a year later.
    "There are so many people who were unable to rebuild and pick up the pieces to keep going," Duss said. "We are some of the more fortunate ones."