Most Expensive Rat Known to Man Visits Jacksonville
Most Expensive Rat Known to Man visits Jacksonville
From February 14 to April 14, the Public Library is sheltering a rat — a $2 million rat, that is
Franchesca Peralta | Arts & Entertainment Editor
The Jacksonville Public Library Main Branch, located Downtown, is currently home to one of the famous pieces of art by world-renowned anonymous street artist Banksy. By working with The Cultural Council of Greater Jacksonville, the owner of the art, Brian Greif, and after receiving a generous donation from VyStar Credit Union, JPL has the opportunity to host Banksy's Haight Street Rat through the VyStar International Artist Lecture Series.
There is no admission fee required to enter and view the contemporary art as these monetary needs have been met by numerous associations and programs here in Jacksonville.
"As a free and open-to-all public institution, we are thrilled to have been selected to show this piece and sincerely appreciate and value the Cultural Council's confidence and partnership that is bringing this piece to Main," said Assistant Director of Community Relations and Marketing Chris Boivin.
In addition to displaying Banksy's Haight Street Rat, the Main Library is also hosting Writing on the Walls, an exhibit which f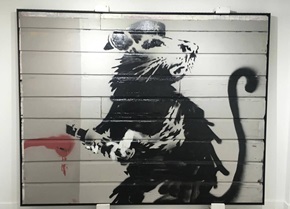 eatures work created by local artists.
Through the VyStar International Artist Lecture Series, JPL hopes to achieve their goal of publicizing more art in Jacksonville.
"The Vystar International Artist Lecture Series was designed to increase Jacksonville's exposure to the arts and foster a deeper appreciation for the arts amongst our community," Cultural Council of Greater Jacksonville representative Patrick Fisher said.
The team assigned to this project, without whom the city of Jacksonville may not have this unique opportunity, has worked hard for weeks to ensure that this experience is eye-opening and memorable for all visitors. In addition, the team hopes that this introduction of the arts to the people of Jacksonville and surrounding areas will broaden their knowledge and change their opinion about what art actually is and what it represents.
"My hope is that someone's interest doesn't begin and end with this piece.  Instead, I hope it plants a seed of curiosity and creativity in the mind of all those who witness it," Fisher said. "I'll consider this exhibit a success if even just one person is provided with a point of access to the arts that they didn't previously have, and through that access, they find additional ways to be involved with or support the arts in Jacksonville."
JPL, which was named Florida Library Association's Library of the Year, appreciates the opportunity to house one of Banksy's pieces and hopes that, through this experience, the citizens of Jacksonville will be able to live out the library's vision of "Start Here. Go Anywhere."