Black and Red Goes Green
Bishop Kenny begins school-wide recycling program
Each classroom at Bishop Kenny High School is made up of the same elements: approximately 30 desks, a white board, papers, pencils, a projector, a trash can, and now a recycling bin. The push to have recycling as an option has been just a dream for countless years by countless people.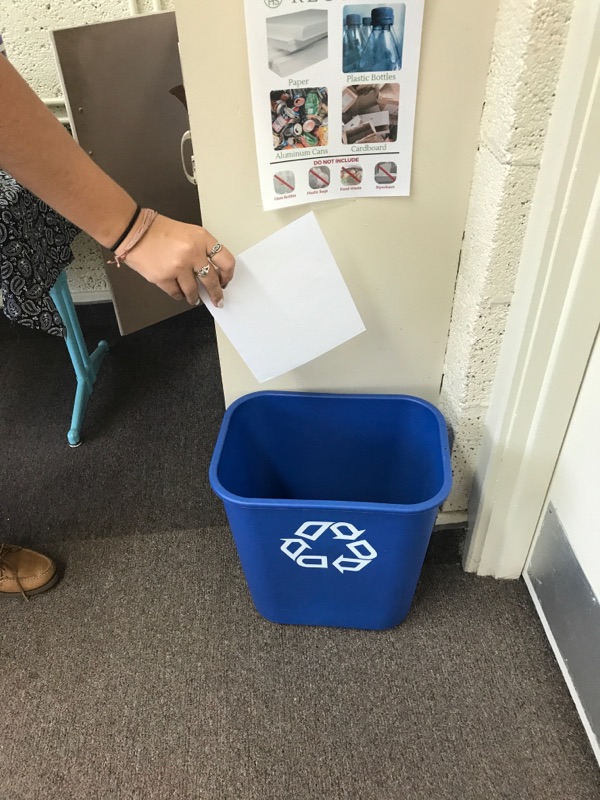 Last year, multiple Bishop Kenny faculty members volunteered to have an extra bin in their classrooms for recycling for the first time but it still wasn't a school-wide trend. The school began a pilot program to test how picking up recycling and trash would affect the custodians. After many saw it to be little to no difficulty for them, the new blue bins then spread to every classroom.
Almost six years ago, science department chair and AP Chemistry teacher Vicki Schmitt and a handful of students tried to start the spread of recycling in BK.
They even arranged a partnership with a recycling pickup business that agreed to transport all the plastic and paper from Bishop Kenny, but since most of the student advocates were seniors, the idea dissolved at the end of the school year.
In addition to that attempt, last year, math teacher Nicholas Lowe volunteered to help students who wanted to start a Recycling Club, but Lowe left BK and, without a faculty sponsor, plans for a Recycling Club once again dissipated.
In years past, some teachers have brought their own recycling bins. Math teacher Emily Berlinghoff kept recycling bins in her classroom and the 100 building teacher lounge so that she could help the environment, even if it was just a few bins. Because Berlinghoff is a strong advocate for helping the environment, she did this for many years before Bishop Kenny decided to put bins in every classroom.
"That is one of the most important things that we can do because right now we're putting everything in landfills, which are finite and we're going to run out of space," stated Berlinghoff. "There are more people in the world every single day, population is still growing and we have to find something better to do than just throw things away."
Religion teacher Noreen Thurson has also been recycling on campus for many years, often collecting discarded papers to take home and use for cat litter.  
Although Bishop Kenny still doesn't have a Recycling Club, the faculty and student body now have the option to recycle. Vice principal Vincent Saladino is the person in charge of making this happen.
From the moment he accepted a position in administration, Saladino knew he wanted to institute a school-wide recycling program. At the time, the only recycling happening at Bishop Kenny was the cardboard boxes in back of the cafeteria. After making sure that Principal Orlando supported the idea, Saladino proceeded with the experiment to find if people would use the new blue bins, and how it would affect the school.
Recycling is actually saving the school lots of money in the cost of hauling away trash, which according to Saladino, is paid for by the pound.
The next step is to get recycling in the lunch room in order for the bins to be completely school-wide. Additionally, Bishop Kenny plans to slowly phase out the use of styrofoam plates in the lunchroom, replacing them with paper and/or plastic recyclable options.
It may seem like a small change in each classroom, these tiny blue bins, but the school-wide recycling program is making an positive impact in the ethics and economics of our campus.