Opinion
Should They Stay or Should They Go?
Monuments to a Racially-Divided Past
Olivia Burch | Staff Reporter
Sometimes memories last more than a lifetime. Old relics and stories passed down turn into historic monuments and facts. Although a time is long past gone, the decisions our ancestors made still ripple into the present.
Over 16,000 people signed a petition in 2013 to change the name of Duval County's Nathan Bedford Forrest High School. General Forrest was a Confederate officer during the Civil War and acted as a leader of the Ku Klux Klan. Even when the school opened in 1959, its name created uproar and chaos. The petition was, to many, a new start to clean the school's legacy. The school finally was renamed Westside High School, but this story shows that this conflict of keeping or moving relics is not recent.
The deadly riots in Charlottesville, N.C. are the most recent events, but racial tension over Confederate monuments has been on the rise in many southern states. And while multiple cities are in the midst of their own wars about whether or not to keep Confederate monuments, Jacksonville is indeed in the middle of its own internal conflict.
The landmarks that commemorate our ancestors' struggle for what they believed can vary from schools, cemeteries, or even small signs that inform people of what happened. Not every monument is a statue of a figure long-past dead, but those are the ones that people feel strongest about.  
Many are offended by these statues, and demand that they be taken down because they represent the groups who fought for slavery in the United States during the Civil War. Others argue that each monument is a symbol of the struggle our country faced and a commemoration to the soldiers who never made it home.
On Tuesday, August 22, 2017, a group of protesters stood in Hemming Plaza to explain why they believed that the Confederate monuments should stay in their place. These people even handed out informational packets arguing that the removal of these landmarks is an attempt to erase history.
On the other hand, the Jacksonville City Council is fighting to put certain monuments, including the 62-foot statue of a Confederate soldier in Hemming Park, away from the public eye and into museums where they will be held on display. Before any of the restoration gets put into action, the council must conduct an inventory, finding and recording every Confederate statue in Duval County.
This fight to keep or move the relics may take longer than many would like since Mayor Lenny Curry is not planning to rush into anything until he has more information. In an interview with WJXT News, he stated that the monuments are not his primary concern at the moment, and they might not be for a while.
Opposing Faculty Viewpoints:
Two history teachers on campus were asked their take on whether the Confederate monuments should remain, or be relocated. The Shield has respected their right to remain anonymous.
"I feel like the monuments should come down. Obviously as a history teacher, I want to preserve history, but I think that they should be put into a museum or  some other place that is more appropriate. I feel like when you put statues in a public place you're putting them on display in a positive way…glorifying it, saying that is something you're proud of. That is not to say that we shouldn't be proud of our history but I think that people's opinions of things change over time and that if we're no longer proud of that aspect of it… that there's more appropriate places to keep those monuments, like a museum where we can talk about why we once thought they were worth putting on display."

"I think that that's it's not right; I think that the statues should remain up because when you start to cover up parts of history that are not necessarily pleasant for everyone, that is when governments get crazy and out of hand. People don't know the full history behind things, I think it's happening in an ignorant sort of way and people are just dwelling on the evil things that have happened."
Shaking Selfish Service
Are you serving for the right reasons?
Emily Willis | Staff Reporter

At their most basic interpretation, 25 service hours is a box that students need to check off before graduation. Some students jump at the opportunity while others loathe the chore. The fact of the matter is, some students are more concerned with fulfilling the requirement than performing an act of service.
"I'd like to believe that most of the members of our school community would not lie to fulfill an obligation, just like no one would admit to texting and driving, or going above the speed limit," religion teacher and Bishop Kenny alumni Robert Sims said.
One of the many aspects of Bishop Kenny that sets it apart from public schools and even prestigious private schools is the collective commitment to Christian service in the community. Students are required to complete 25 hours of community service throughout each school year. Beginning this school year, students must turn in these hours by the first of March; previously these hours were due in May.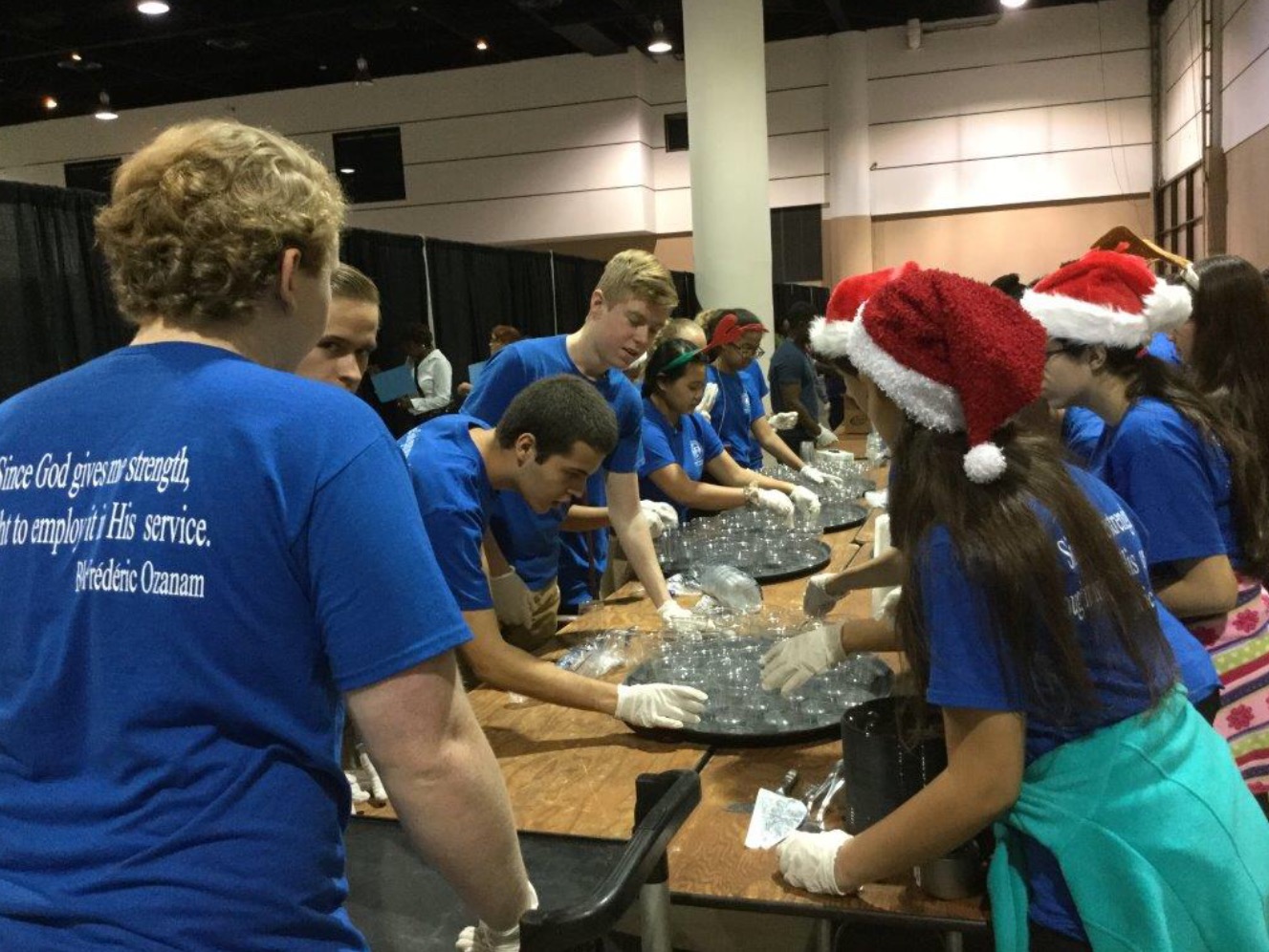 The question is, do most Bishop Kenny students truly care about the service they perform?
"I find adolescents and young adults to be very generous people," Deacon Robert DeLuca said. DeLuca, who has been teaching religion at all levels since 1975, continued by saying that he believes young people are "generous with their time and generous with their talent."

Whether students are mentoring a special needs child at Camp I Am Special or beautifying the beach by picking up garbage, students learn that volunteering is more than just the service hours. Learning how to communicate with a disabled child and how that same child sees the world and makes it through each day, or the feeling you get when you step back and look at the beach or park you just removed 10 bags of trash from teaches a lesson that can't be taught  in a classroom.
These intangible skills are not acquired outside of "the service hour." They are acknowledged later, sometimes much later, during a moment of maturity. These are the things only genuine completion of these service hours can teach students.
"Selfishness leads to acquiring things that don't make us happy," DeLuca said. "The real joy in life comes from the smile you see in somebody's face because you notice them or you spend time with them."  
Service should not be a selfish act. Students should not look at service as a requirement. They should look at service as an opportunity to do good and be good.