Teachers of BK: Vincent Saladino
Former vice-principal discusses new job
Vincent Saladino has been on the Bishop Kenny faculty since 2013, starting as the multimedia arts teacher. Three years later, Saladino became the vice principal of the school. Saladino has been the overseer of the business aspects of the educational institution for Kenny.
"I work in support of Mr. Orlando in the area of finance, advancement, marketing and then the capital improvements which was the buildings, the construction," Saladino said.
Now, after ten years, Saladino is moving to work as the Head of Corporate Foundations and Relations at Jacksonville University (JU). His new position will be similar to his position at BK.
"I'm working with the community, both corporate and individuals, to help build relationships that will impact the vision and grow Jacksonville University," Saladino said.
Saladino was asked by Principal Todd Orlando to come and work at Kenny and he took the opportunity, due to his relationship with the community and his love for the school.
"I loved my time here as a student, I love the community. And I said, 'Yes, I'm interested and I'll do it,'" Saladino said.
Saladino has been part of the BK family for many years, much longer than his teaching years. Saladino attended BK as a student from 1991-1995 and played on the Crusaders football team all four years.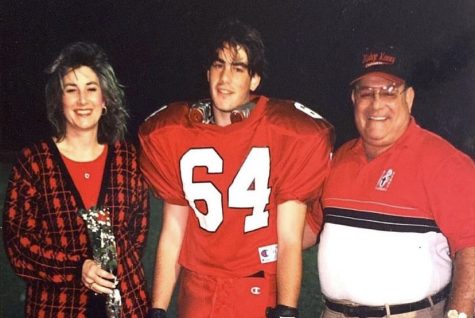 Though he is becoming a part of a new school community, Saladino will still be connected to the Bishop Kenny community. He plans to still attend the sporting games and still see the members of our community.
"What I'll miss most is every morning when I would drive on to Kingman and that feeling of I can't wait to walk through the door because I'm going to do x y z," Saladino said. "Not because it's a job, but because I get to grow Bishop Kenny and I get to give back to a community, I get to grow a community I believe in."