Retiring Local Legend
Blake Bortles enters retirement from his football career
From 2014-2019, Blake Bortles led the Jacksonville Jaguars for all of six years. Bortles was the third overall pick in the 2014 NFL Draft. Bortles threw for a total of 17,646 yards and 1,561 completions, with 103 touchdowns and 75 interceptions, according to stats recorded on nfl.com. These statistics stand to be the second all-time best passing records in Jaguars' history.
After leaving the Jacksonville Jaguars in March of 2019, he was a backup quarterback for the Los Angeles Rams, Denver Broncos, Green Bay Packers and the New Orleans Saints. Bortles played for three games for the Los Angeles Rams and practiced with the Broncos and Packers in addition.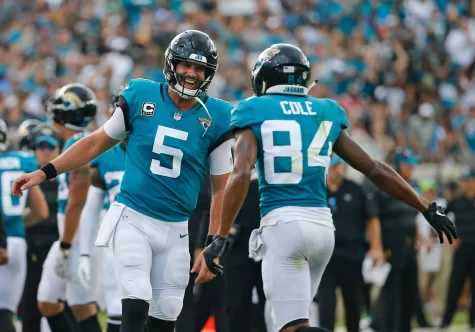 Blake Bortles retired rather quietly, without widely broadcasting this news. He announced his retirement on the Pardon My Take podcast and tells the podcast that he "quietly retired. I just didn't tell anyone. I guess you guys are the first to hear it, publicly."
Upon hearing about Bortles' announcement, multiple platforms posted in honor of the news. The Pro Football Network posted a video of Bortles along with text stating "In honor of Blake Bortles officially retiring, we bring you his best mic'd up moment."
He plans to spend his life after retirement with his girlfriend Lindsey Duke after being the figurehead of the Jaguars for the six years he was a part of. He is widely remembered by Jaguars fans and viewers for the persistence of his career as he begins the next chapter of his life.