Premier League Champions… Again!
Manchester City is named 2022 Premier League Champions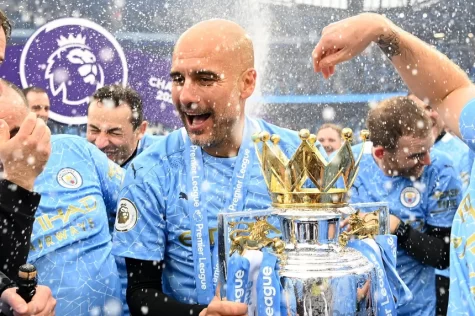 Manchester City became Premier League Champions for the fourth time in five seasons. City defeated Aston Villa 3-2 and came back from a deficit of two goals in the second half. They scored three goals in just five minutes to secure the Premier League title over Liverpool on the final day of the season. The team almost lost their title after falling being Villa 2-0 far into the second half, but everything changed when substitute Ilkay Gündoğan scored in the 76th minute. In the 78th minute, Rodri added a second goal putting the team at a tie with Aston Villa. Two minutes later, Gündoğan scored again. City was able to maintain their lead and won the game, earning them the title of Premier League Champions (again). 
Manchester played West Ham last weekend, dropping two key points and leaving the door to Liverpool open. However, because City won their game, Liverpool, for the second time in the four seasons ended up one point behind first place.
At one point when City was losing, they were still set to defend the title as Liverpool was only tied 1-1 to Wolverhampton. Mohamed Salah (on Liverpool) scored in the 84th minute causing Liverpool to take the lead over Wolverhampton, which would have put them in first place if a City had not fought back during their game at the Etihad Stadium. Liverpool ended up winning their final game 3-1 with a goal from Andy Robertson.
Had City not beat Aston Villa, Liverpool would have snatched the first place trophy. Luckily, with the guidance of Pep Guardiola, City was able to hold onto their lead and win the Premier League title.