Mass Shooting in Buffalo
11 dead, three wounded in "hate-filled" attack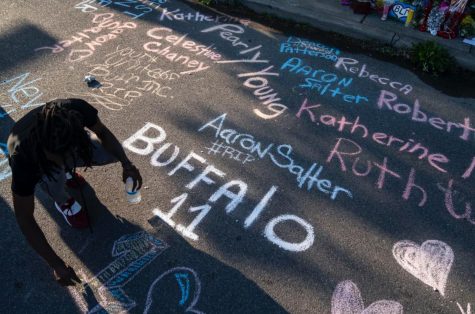 A mass shooting sprung out in Buffalo, New York at a Tops Friendly Markets store on May 14. The suspect, 18-year-old Payton S. Gendron, posted about the event and chatted online before the incident, later streaming the murders on Twitch, a popular livestream service where anyone can stream something live from their phone, computer or gaming console.
There were ten victims total: Roberta A. Drurry, 32,  Margus D. Morrison, 52, Andre Mackniel, 53, Aaron Salter, 55, Geraldine Talley, 62, Celestine Chaney, 65, Hayward Patterson, 67, Katherine Massey, 72, Pearl Young, 77 and Ruth Whitfield, 86. 
The city of Buffalo, along with the rest of the country, is mourning those killed on the tragic day. Famous people in sports like Tampa Bay Buccaneers tight end Rob Gronkowski, New York Giants head coach Brian Daboll and Hall of Famer Thurman Thomas, along with the Buffalo Bills football team have paid tribute to those lost. 
Before the incident, Gendron posted a 180-page document outlining a hatred-filled notion of "replacement theory," a white supremacist belief that non-whites will eventually replace white people because they have higher birth rates, according to authorities. Gendron also talked about the planned shooting on a small chat room online. He invited a small group to review his plans, naming the place and what he was using in the attack. None of the people he invited alerted law enforcement and the murders played out much as Gendron fantasized it to. Those who he talked to about the attack could be charged for encouraging an act of mass shooting.
During the shooting, the gunman broadcasted the shooting in real time on the Twitch site. The company took the video down within two minutes of the first gunshot. 
After the shooting stopped, 10 were dead and three were wounded, with 11 of the victims being African American, while two were white. Four of the victims were store employees and out of the three wounded, two have been released from the hospital. 
This was not the first time Gendron threatened others. Police in Brooke County, New York were called by a local high school in June 2021 after they reported Gendron threatening a shooting at graduation or during that time. He was given a mental health evaluation and later released. 
President Joe Biden called to Americans on Tuesday to "take on the haters" and "reject the lie" of racial replacement that encouraged Gendron to complete the racist and hate-filled mass murder. Biden declared that "white supremacy is a poison" surging through America, confronting "ideology rooted in fear and racism," accusing conservative political and media figures for exploiting it and to mourn the victims and support the grief-stricken city. 
"What happened here is simple and straightforward: Terrorism. Terrorism. Domestic terrorism," Biden told a grieving crowd gathered in a community center. "Violence inflicted in the service of hate and the vicious thirst for power that defines one group of people being inherently inferior to any other group, a hate that through the media and politics, the internet, has radicalized angry, alienated, lost and isolated individuals into falsely believing that they will be replaced."