Go Beyond Van Gogh
Go to Van Gogh Immersive Exhibit to experience a unique show
The Van Gogh Immersive Exhibit is an experience like no other, as it showcases the artist's creative visions through the use of vibrantly new perspectives.
The immersive exhibit is located in cities such as New York and Chicago, where viewers are able to better understand not only Van Gogh's art pieces, but also the story of how certain works came to be. Now, however, the Van Gogh Immersive Exhibit has come to Jacksonville, with tickets on sale now. This exhibit is able to use exceptionally advanced technology to give life to hundreds of Van Gogh's creations. The Beyond Van Gogh website says that "Such an amazing experience! Van Gogh is my favorite of the Impressionists and this experience did not disappoint! A must-see!" This exhibit occupies over 30,000 square feet, making it the largest immersive exhibit in the country. The website also explains how over 4 trillion content pixels are used in the "high-resolution portrayal" of the artist's work.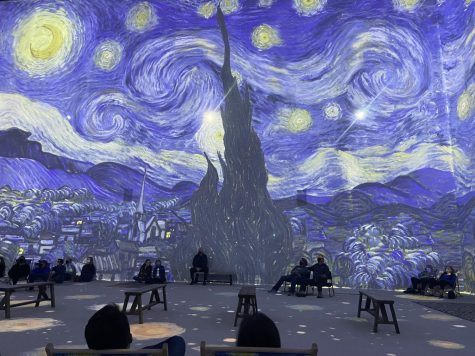 An average visit will take around an hour, and will include a room filled with Van Gogh's paintings along with a timeline of his life story as well as the main attraction: a room with hundreds of his paintings projected around the viewers. It seems as if one is stepping into Van Gogh's creative visions, and it allows the viewers to see the majestic beauty of his artworks. A majority of Van Gogh's creations have gone unnoticed by the vast majority of individuals, so going to the exhibit would be both an entertaining and enlightening experience.
With over 5,000,000 visitors since 2017, the Van Gogh Exhibition is most definitely a must-see experience in Jacksonville, FL. It is a quick and easy exhibit to experience with friends and family of all interests, as it is a distinctly exclusive show. Due to this exclusivity and mindblowing graphics, those interested should attend this immersive experience to check it off their bucket list.