Sideline Spat
Miami Heat's Jimmy Butler and Udonis Haslem get into a verbal altercation in Wednesday's game against Golden State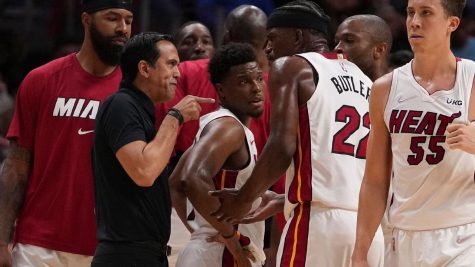 During the third quarter of the Miami Heat's 118-104 loss to the Golden State Warriors, Heat players Jimmy Butler and Udonis Haslem got into a verbal altercation on the sideline. 
The altercation resulted in them being separated by other teammates on the sideline. Heat head coach Erik Spoelstra reacted with frustration- slamming his clipboard to the floor. 
Although the reason for the scuffle is still unknown, it can be reasonably inferred why the Heat were upset. With a tied game at halftime, the Warriors- missing three of their best players- started the third quarter with a 19-0 run to take a 19 point lead. 
In the end, the Heat allowed the Warriors 37 points, resulting in a devastating loss for the Heat. 
After the game, it took Miami 35 minutes to exit the locker room for postgame interviews, roughly three times as long as it usually takes. 
This loss cut the Heat's lead in the Eastern Conference race to 1.5 games over Milwaukee and Boston. 
Butler has been known to be one of the most vocal players in the NBA, but Haslem is not known to be the first player to fight back at another player- especially in front of a coach. 
In an interview with CBS, Heat guard Kyle Lowry said, "It's crazy, but it's passion. … It's good sometimes to get some anger and frustration out and just talk about it. We're gonna have situations that make people uncomfortable, but at the end of the day, as long as we're comfortable and we figure it out, that's all that really matters. As long as we're together. And we are."