Class of 2018 Sits for Senior Panoramic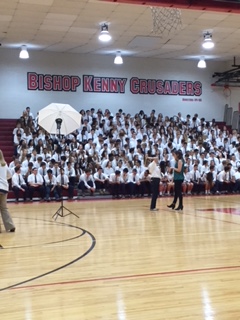 The class of 2018 gathered during fleX mod on October 18 to be photographed by Cady Studios for their senior panoramic.
Filing in through the front doors of the gym, the seniors filled the bleachers and took their places in the area roped off by photographers, making last-minute touches to their hair. School-issued jackets were strewn over the staircase as no outerwear was allowed in the photograph.
Comical antics, courtesy of Dean Wray, ensued when her son, Andrew, opted for the hillbilly look and removed his front tooth.
"Put your tooth in!" Dean Wray shouted.
The senior panoramic photo will be featured in the yearbook, and seniors can officially log one more milestone in their journey to graduation.