Deadly Truck Crash
Truck flips, killing and injuring many
In Chiapas, Mexico, a truck that was carrying over 150 people crashed, leaving 54 people killed and 105 people injured. On Dec. 9, 2021, the white truck is believed to have been carrying migrants from Central America into Guatemala, which borders Chiapas. The vehicle had flipped over and the cargo box doors it was carrying swung open, throwing the people inside out of it. The truck is believed to have been speeding when a sharp bend in the road occurred. The truck flipped on the said bend and crashed into a pedestrian bridge nearby in Chiapas' state capital, Tuxla Gutiérrez. Some of the people who died were foreign nationals, so Mexican Foreign Minister Marcelo Ebrard plans to talk to all countries affected.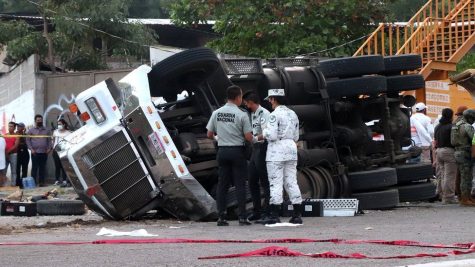 "My condolences to the victims and affected families. In communication with the State Government and Civil Protection. We make contact with the foreign ministries of the affected countries," Ebrard said in a tweet on Twitter.
Many migrants from Central America attempt to reach Mexico to then head into the United States. While some people trying to reach these other countries are smugglers, most of the time it's people fleeing from poverty and violence. According to the International Organization for Migration (IOM), 650 people this year alone have died trying to cross the border, which is the highest number IOM has seen since their records began.
"The rising migrant death toll in the region is highly alarming," said Michele Klein-Solomon, who is the IOM Regional Director for Central America, North America and the Caribbean.
Just last month, a migrant caravan had to drive through Chiapas when it was stopped by law enforcement. After having the truck captured, the migrants effectively had to take the journey on foot. This is a government tactic to try and break the migrants' determination so they can turn back or have to accept asylum conditions in Mexico. However, migrant trucks have been transporting thousands of migrants and the government does not seem to notice.
With many factors, such as suffocation inside the cargo box that the trucks carry, gang violence in the area and severe weather, many people risk their lives to escape from their homes for a better life.