Amazon's Take on Robots
Amazon takes on the robot world with The Astro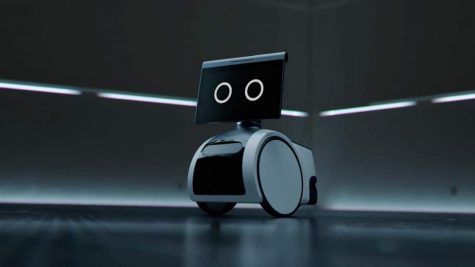 Amazon carries almost every item you can think of, from Tik-Tok trends to the hardware store, Amazon has got you covered. Amazon has combined each aspect of their company in order to create their "most ambitious product yet". 
The Astro is an Amazon designed home assistant robot. This robot is designed to help out with home tasks by first mapping out the floor plan of your home so it can, when commanded, perform a number of at home tasks. 
This list includes: Face recognition, delivering items throughout the house, playing music, keeping you in the frame while on FaceTime, and has all other aspects of the echo smart display.
Not only is The Astro a fun device, but it is used to make sure your home is safe at all times. Monitoring the house while you are not home, the robot has a periscope camera that can make sure your stove is turned off, and record blood pressure. 
On the robot's face is the display of two circles that behave as eyes, allowing you to understand where the Astro is off to next. This robot is two feet tall and 20 pounds. Its top speed is 1 meter per second and has 360 motion. 
As the first edition Astro its capabilities will only increase.