Humans of BK: Ricardo Salas
Sophomore Ricardo Salas describes favorite high school memories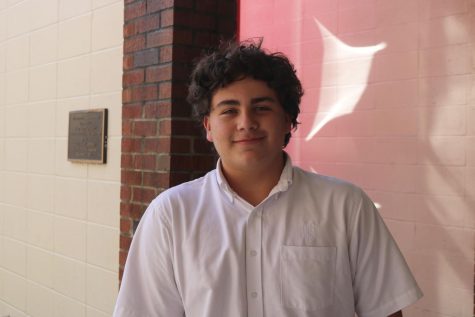 Sophomore Ricardo Salas reminisced on memories from his past years at BK. "I hope to receive better grades for the rest of my years here at Kenny," Salas said. In the past two years, the COVID-19 pandemic weighed down on his high school experience. Many of the typical sporting events have been cancelled, giving Salas less things to do.
Salas plays the saxophone in the band at BK, and has been involved in the band since freshman year. The class has helped him grow his skills in the band. Along with playing the saxophone, Salas also is on the swimming and diving team, but the band is more in the forefront of his mind.
"If I could pick one word to describe myself, I would definitely say spontaneous," Salas said. "There's something about not knowing what the next day could hold that makes the high school experience better."
Relying on his friends and family for support, Salas wishes for a better next two years of high school, but will definitely miss his first years as well. As a part of the swimming and diving team, he spends many days busy after school, and performs with the BK band, though their performances are limited due to the COVID-19 pandemic.
When asked about one thing that helps him through high school, Ricardo replied "Ice cream." His go-to comfort food is ice cream, especially after a long week of school. "I have no flavor preference, but ice cream is definitely what I reach for after having swimming, band, and clubs all week."