Senior Night Against Eagles
Football Senior Night and an overview of the game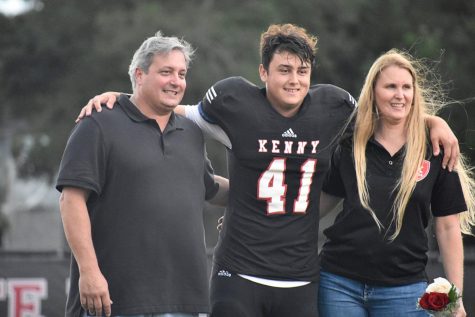 At 6:30pm on September 11th 2020, the Bishop Kenny Football team lined the end zone; 16 members of the team stepped forward to walk across the field for senior night.
As each senior's name was called, they walk towards Coach Krause to receive flowers and is greeted halfway to meet their parents for a photo. The seniors were each called by the order of which number they play on the field. When the last number was called, 79 , the seniors lined the sidelines and in the last tear jerking moments for parents, a burst of lightning lit up the evening sky.
The fans were asked to leave the stadium for a 30 minute rain delay at 6:51pm as the clouds began to hang at an ominous level.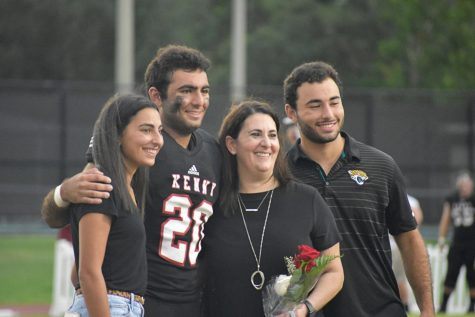 An hour and a half later, the sky had cleared and the gates were reopened for fans. By 8:30 the senior captain, Matthew Helow, took the field for coin toss. Kenny won the toss and took position on the field.
BK was having a rough time getting momentum against the Episcopal Eagles. In the first quarter, BK was down 11 points to the Eagles with a 37 yard field goal from senior Sean Meisler. The Crusaders started feeling the heat as the Eagles scored a long touchdown pass to end the first quarter.
By halftime, BK Crusaders had fallen behind by 25 points. Although, Crusaders started to bring back the heat in the third quarter with a 68 yard touchdown pass from Brad Miller to Jackson Burnett. Time started to kick in and Baylor Newsom scored another touchdown bringing it to 35-17 Crusaders.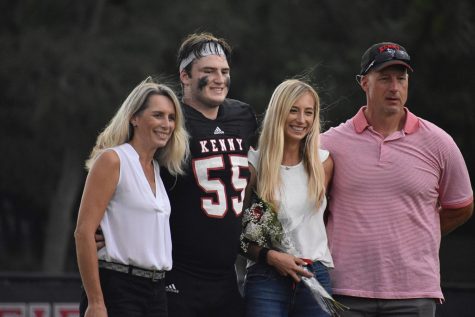 Now, the parents in the crowd were getting loud and trying to get their kids heads back in the game. In the beginning of quarter four, Newsom scored his second touchdown of the night turning up the heat for the Eagles. Ten minutes on the clock, Eagles 35 BK 24.
Out of nowhere, Andrew Tabor cuts through Eagles defense going for a 82 yard touchdown, bring BK Crusaders to 32 points with 3 minutes left on the clock. Newsom again in for a touchdown, BK Crusaders 38 Eagles 35. It's down to the final minutes of the fourth quarter and the team is going crazy on the sidelines.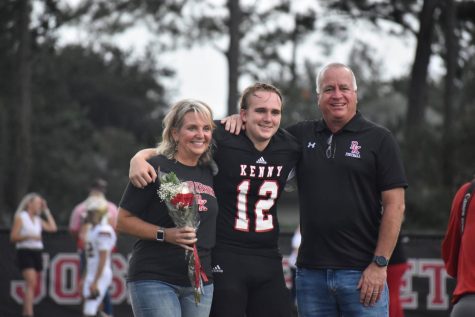 The cheerleaders bringing the parents to their feet for the end of the game cheering. Then suddenly, the Eagles clip the line of the end zone two times but Crusaders defend home. Unfortunately, Crusaders cannot keep the Eagles down and the Eagles fly into the end zone with 28 seconds left on the clock. Leaving the Eagles up 4 and taking the game, Episcopal 42 BK 38.
It was a very interesting game and a proud moment for the parents of Class of 2021 seniors.