The Start of a Fresh Football Season
Team coaches players to "get comfortable being uncomfortable"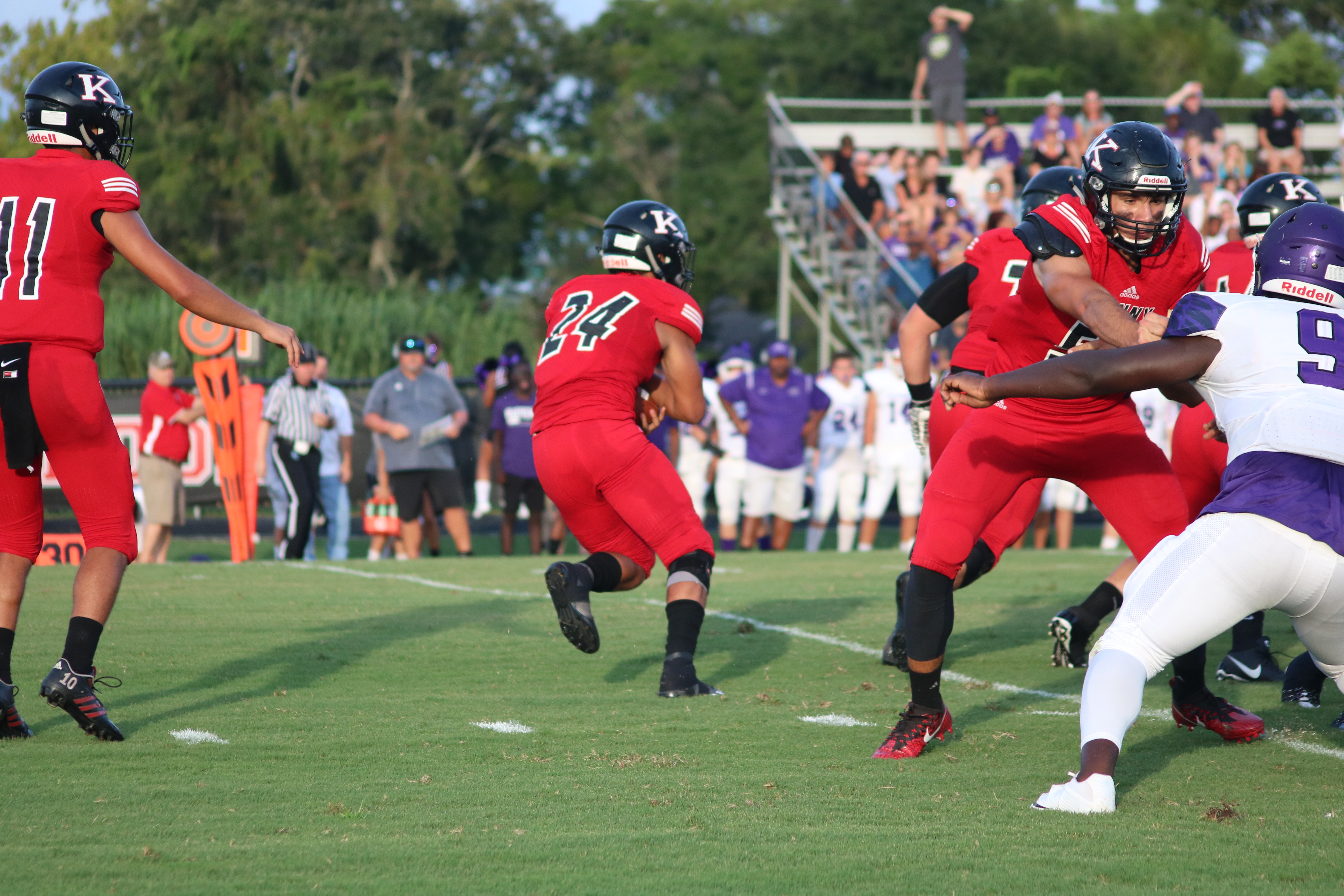 Photo taken by Olivia Ellis
"Let's go, Kenny!" scream the cheerleaders. The lights are shining down on the football field as the players run out in their black and red uniforms, ready to start the game. Banners are flying and the crowds are cheering.
The Bishop Kenny football season has arrived once again and is evolving with new competition and the dedication of the players and coaching staff.
This year, Florida High School Athletic Association, or FHSAA, changed the playoff requirement for teams by requiring different points for each of the four categories. There is category one through four and each school falls into a category based on the number of points each team gets per win depending on the other school's rank. This new system left holes that allowed new teams to enter and exit from different divisions.
The new teams added to Bishop Kenny's football schedule left some wondering if Bishop Kenny has moved up or down a division.
"We are not in a new division," head football coach Bobby Raulerson said. "Our classification is the same based on the enrollment of the school, but we have had two new teams enter, Bolles and Trinity, and one team, Wolfson, exit."
In order to fill the ten-game schedule for the season, football teams must find other schools inside, as well as outside, of their district in order to complete this requirement. This left Bishop Kenny looking for five teams outside District 4 that would prove to be challenges for the football team, giving the team the chance to improve and grow.
"The games are going to get way more exciting for the crowd and more intense and pressuring for us as players, but it's going to be a good season," outside linebacker, junior Jordan Ellis said.
The football season began the season undefeated and the team is committed to dedicating their off time to practice and prepare, and they hope it continues to show. The players have trained all summer and continue to practice multiple days a week to prove how badly they want that win and how much they would like to improve.
"We do sprints, seven on seven, conditioning, heavy weights, and we watch films of ourselves to see what we did and how we can improve," wide receiver, junior Caniem Maxwell said. "It's extremely competitive this year because it's a step up from last year, but I feel confident in our team because we have been putting in a lot of work in order to be prepared for this season."
Extreme soreness and fatigue are the constant results of these labors in players' efforts to prove to their coach, their teammates, and the crowds that together, they can make this dream work.
Coach Raulerson has worked to prepare the team for the season by pushing them past their comfort zone and teaching them to reach past their limits. He has special training outside in order to prepare them for the Florida heat.
"We have spent all summer working out for four hour,1 four days a week," Raulerson said. "The August, September, and October games help prepare them for the heat and fatigue that some teams can handle and many cannot. That's why we train in the summer to acclimate ourselves to see when the games begin."
Although winning is the customary goal of sports, Coach Raulerson has taught his boys that it's not all about the trophy and the medal.
"It's one of the hardest working groups of young men that have been around and I think our team is progressing well," Raulerson said. "I hope we can look back at the end and see a progression of improvement. As a coach, you don't judge the success or failure in the loss record. The question you answer is 'did you get the most out of those young men that you could? 'Did you help them see the full potential?' and if the answer is to that is yes, then that is a successful season."